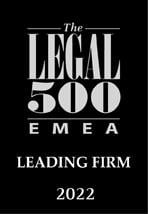 NOVE has been ranked among the best law firms in Estonia by the international rating agency Legal 500. In the 2022 edition, NOVE and its attorneys were highly rated in the following practice areas: Dispute Resolution; Real Estate and Construction; Commercial, Corporate and M&A; EU and Competition; and IP, IT and Telecoms. NOVE's partner Mari Past achieved individual ranking as Next Generation Partner in the category of EU and Competiton.
Based on interviews with clients and colleagues from other law firms, Legal 500 highlights the following as our strengths:
The team at NOVE is noted for its expertise in complex business litigation proceedings before all levels of Estonian courts, as well as international arbitration and administrative law-related disputes. Litigation specialist and co-head Veikko Puolakainen often represents financial institutions and energy groups, while co-head Arsi Pavelts is particularly strong representing clients before the Supreme Court of Estonia.
"Nove is unique in a sense that it really focuses mainly on dispute resolution and mediation matters. Partners are very hands on and personally invested in advising the clients of the firm."
"Veiko Puolakainen is a very experienced litigator, who tries to find solutions rather than just processing the dispute for the same of process. He understands the business needs of the clients, which is essential when elaborating the cost-benefit ratio of a dispute case."
"The Nove team perfectly combines theoretical knowledge with practical skills."
Real Estate and Construction
NOVE is known for its particularly strong focus on planning and construction-related matters, including major infrastructure issues involving water, sewage, gas, and heating in Estonia. Kristjan Tamm heads up the team and is noted for his expertise in construction-related disputes and litigation proceedings. The team also handles real estate transactions.
"The strength of the team is its good knowledge of the construction industry and experience in public procurement."
"My contact is Kristjan Tamm. Kristjan has provided expert advice in construction disputes. I appreciate his mental strength and good understanding of the local judicial system."
"Team head Kristjan Tamm stands out because of his degrees in both law and engineering which makes his legal advice fast, accurate and practical."
Commercial, Corporate and M&A
The corporate and M&A team at NOVE has notable expertise in corporate M&A in the Baltics, including corporate investment structuring and restructuring, legal due diligence, and drafting corporate contracts. New corporate head and senior associate Triin Tiru is an expert in complex transactions.
"We worked with Triin Tiru and she excels in her knowledge on business law."
"Agility and professional efficiency when dealing with urgent problems and everyday issues. Solid professional expertise in the field of contract and company law."
"For our company we like direct communication. If I have any questions or need help in any legal document I can always count on them."
NOVE advises Estonian companies, universities, state audit offices, and governmental institutions on competition and procurement, as well as merger control issues. Its clients often operate in the healthcare, retail, road construction, energy and natural gas, and IT sectors. Practice head Mari Past focuses on merger control, business restrictions, and cooperation agreements, especially for healthcare clients. Veikko Puolakainen is noted for his experience litigating in both civil and administrative courts, as well as competition law-related alternative dispute resolution, while senior associate Veiko Vaske is an expert in public procurements, as well as construction and planning law.
"The team is very responsive and business-minded."
"Team head Mari Past has provided us with fast and clear legal advice. She is business-minded and thinks along how the legal solution can improve our business, not be merely compliant with competition law."
"Clever lawyers and competent."
NOVE is highly experienced advising on data protection, legislative drafting regarding copyright, and representing clients in high-profile trade mark disputes. Its clients include universities and major actors in the medicine, technology, and healthcare sectors. Practice leader Mari Past focuses on data protection, IP, IT, and healthcare and competition law. Arsi Pavelts is an IP, IT, and data protection litigator, while senior associate Maret Kruus is experienced in data protection.
"NOVE's lawyers that I have met are down to earth and easy to speak to. They use simple language and clear advice. I've used fixed fee offers that give transparency and help better plan the budget for legal services."
"I have worked with Mari Matjus (now Mari Past) and Maret Kruus on data security and with Mari Matjus on competition law. Mari Matjus is fast, reliable. She goes the extra mile to help and knows the medical sector well. Maret Kruus has an eye for detail and understands well how health data is processed in hospitals."
"I really like to work with NOVE as their approach is very personal and friendly."
The Legal 500 review provides an in-depth analysis of the legal markets in more than 150 jurisdictions, independently identifying the leading law firms and attorneys. The research is based on feedback from customers and colleagues, and the practice area teams providing the most cutting edge and innovative advice to corporate counsel are highlighted.
More information: https://www.legal500.com/